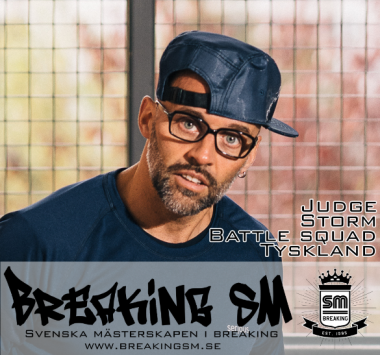 Niels "Storm" Robitzky
Is part of the european Hip Hop Oldschool. He started dancing in 1983 when first broadcasts about this urban culture changed his reality in Germany. In the early nineties he became a relevant figure and developed his notoriety as a choreographer, when urban dance entered into theatres worldwide. Ever since then he is travelling as a Hip Hop ambassador. He is creating and performing dance pieces, judging competitions, teaching the styles of Popping, Locking and Bboying and most of all he philosophies on the subjects of urban art with his peers.
From 1993 until 1995 he co edited and co hosted the Hip Hop Magazine "Freestyle" on the German music TV channel VIVA.
From 1996 until 2000 he toured with his dance company "Storm and Jazzy Project".
In 2000 he published a book about the development of Bboying in Germany called "From Swipe to Storm".
In the year 2006 Storm choreographed the opening ceremony of the FIFA world cup.
From 2001 till 2010 his main occupation were the creation of different theatre pieces. The most notorious ones are "Solo 4 two" in 2001, "The art of urban dance" in 2003 and "Geometronomics" in 2006.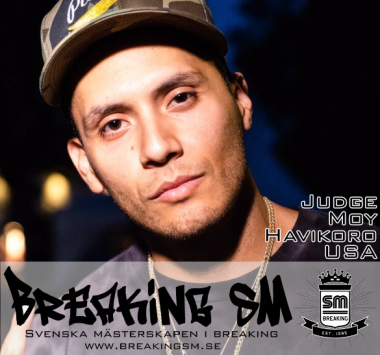 Moy Rivas is known as one of the most respected and most in consistent bboys in the world. Over the past 20 years, Moy has gathered countless accolades, has appeared on national television commercials, feature films and more. In 2010, Moy was honored by Rock Steady Crew's own, Crazy Legs, by receiving the SPY Award - the most prestigious award given to any Bboy and Bgirl. Although, Moy has gained international acclaim as an active leader, teacher, and competitor, Moy has also transitioned into a successful entrepreneur.
Today, his company, Break Free Worldwide, owns Hip Hop Schools, an apparel line, serves as management company, and has also established successful partnerships with major corporations that have become key players in the breaking world. His goal is to impact his community through his talent, personality, and his business, by continuing to create opportunities that will benefit the community that inspired him.
Fler domare kommer presenteras när de är bokade och klara...